Cheap accommondation for students
We offer all students an advantageous accommodation in Olomouc.
The price for a single bed is CZK 2,900. – per month
twin rooms
free internet access
refrigerator
fully equipped kitchen
TV in the common room
convenient location of the hostel near the city centre
For more information visit the hostel building in Olomouc or call the numbers 585 220 220 or 725 119 141.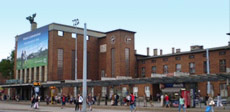 How to find us


Ubytovna Marie
Tř. Svobody 41, 772 00 Olomouc