Hotel Marie Lodging House
Welcome to the home page of Hotel Marie Lodging House, which offers quality accommodation in 27 double rooms and 3 triple rooms with a total capacity of 63 beds. The rooms of the hotel are provided with new furniture including a fridge, telephone and TV and free WiFi internet connection.
The entrance area of the hotel is provided with a public telephone. Each of the four floors has two individual showers and toilets. The hotel basement includes a meeting room with a large-screen TV, laundry, showers, toilet, kitchen and a dining room, where the guests can use microwave ovens and cookers to prepare meals throughout the whole day. Apart from smoking rooms, the whole hotel is strictly non-smoking. Reception is open 7:00 a.m. to 8:00 p.m. Check-in during working days from 2:00 p.m. until 8:00 p.m.; different times upon agreement.
We hope that our offer will address you and that we will see you soon...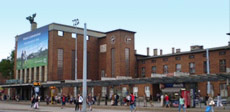 How to find us


Ubytovna Marie
Tř. Svobody 41, 772 00 Olomouc